Heidi Volkhardt Allstead
Executive Director
Heidi has 20 + years of non-profit management experience across a variety of sectors and has a deep passion for supporting non-profit organizations' with their next phase of growth. During her tenure in the non-profit community, she has lead organizations through developing a robust grants management processes, financial best practices, increased donor & community relationships, conducted strategic planning, succession planning, organizational audit processes, and board development trainings for many non-profit organizations.
Heidi earned a Bachelor of Science degree in Environmental Conservation with a minor in Biology from Northern Michigan University. Her previous work includes supporting water quality, watershed restoration projects, and land conservation efforts in the Great Lakes region. Heidi and her family, (including their two awesome dogs), have called Tahoe home since 2008.
Denise Upton
Animal Care Director
After joining LTWC in 1995, Denise became one of our most hands-on volunteers involved with the daily care of wild birds and animals at LTWC. She served on the LTWC board for six years and as its president for two terms before being hired as Animal Care Director in 2014. She is slated to become the first resident in the new caretakers' house at LTWC's new property. She has attended numerous wildlife rehabilitation conferences, including IWRC, CCWR & NWRA symposiums and training.
Jenny Curtis
Wildlife Rehabilitation Manager
Jenny has been with LTWC since 2015. She has 20 years of veterinary technician experience spanning the western United States. She has worked at a zoo and with a veterinarian who held a raptor license in Montana. She worked at a veterinary hospital in Salt Lake City, UT that serviced the Hogle Zoo. She has also worked at hospitals in Modesto, Malibu, Bakersfield, and South Lake Tahoe, CA. She made a career change to work with special education students at LTUSD for the last 15 years. We are happy to announce, after working part time for the last year, Jenny joined LTWC full time in 2020.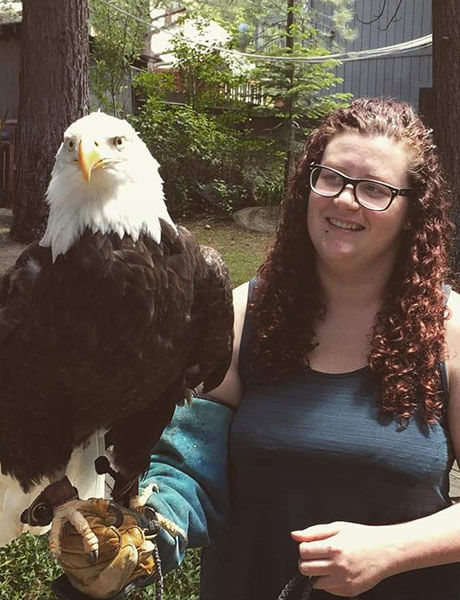 Eliza Cameron
Wildlife Rehabilitation Technician
In 2009, Eliza completed a certificate II in animal studies and Zookeeper internship at Taronga Zoo, Sydney. Her passion for working with animals was reignited in 2016 when she started as a nestling volunteer with LTWC. At the end of 2017, she became a lead volunteer and a veterinary assistant at a local animal hospital. Eliza is studying to become a licenced veterinary technician with plans to specialize in wildlife. In 2020, she became a wildlife rehabilitation technician for LTWC, working closely with the veterinarians to provide medical care and treatment plans for our rehabilitating birds and mammals.
Sue Harley
Wildlife Rehabilitation Technician
Sue started out in 2018 as a volunteer at LTWC and quickly identified with raptor and animal care support needs, joining our team as a Wildlife Technician in 2019. Her personal background brings knowledge and hands-on experience with wild and domesticated animal care. Sue has owned and managed a small ranch, which exposed her to a wide variety of both domesticated and wild animals wherein she developed care plans, food intake and preparation, housing development and maintenance, medical care as well as onsite and offsite vet care. Sue works with a variety of organizations to help monitor and protect the wildlife that encroach on private land and assists with the safe release of animals back into the wild.
Kassie Quackenbush
Wildlife Rehabilitation Technician
Kassie received her Bachelors of Science in Marine Biology from the University of Oregon in 2014. During that time she volunteered for a raptor center in Oregon, and interned for a sea turtle hospital in China. After graduation she moved to Florida to intern for a wildlife hospital in Naples. She began volunteering for Lake Tahoe Wildlife Care in 2020, and was hired as a Wildlife Technician in 2021. She is working full-time at a local small animal hospital as a Veterinary Technician in Training, with plans to specialize in wildlife medicine once she receives her certification.
Morgan Amsden
Facilities Manager
Morgan Amsden has been active part of LTWC for many years, serving as a Volunteer, Board Member, and as Board President for many years before becoming our Facilities Manager in 2020. As a Board Member and President, Morgan was instrumental in helping find LTWC a new home, which finally became a reality when LTWC secured a new property in 2014 and transitioned to it in 2019. He now oversees LTWC's various facilities needs to ensure a safe, secure, and efficient environment for our staff, volunteers, and the wildlife in our care. He has lived and worked in Lake Tahoe for over 25 years as a small business owner and timeshare homeowner.
Brynsley Michael
Social Media
Bryn creates, curates and manages LTWC's online content and fundraising campaigns on our social media channels including Facebook, Twitter and Instagram. Bryn's passion and dedication showcase the work our staff and volunteers do to rescue, rehabilitate and release Lake Tahoe's wild birds and animals. Bryn is also the Assistant Manager of Starbucks in Incline Village, NV.
Bruce Richards
Project Manager
Bruce is a retired Research and Development Director for the Hewlett Packard Company and has been working with LTWC since 2012. Prior to joining LTWC, Bruce and his wife Adele rescued and rehabilitated dozens of Golden Retrievers in the SF Bay Area. His 30+ years of experience in corporate governance, project management, budget control, and information systems has been vital to the evolution of LTWC as an organization. Bruce served as an LTWC Board Member for several years, and was instrumental in helping us secure, construct, and move into our new facility. He is the Project Manager for our construction projects, our IT manager, and works with many of the donors who make our work possible.
Susan Strating
President
Susan is the TRPA Human Resources and Organization Development Director and has over 20 years in HR expertise. In addition, she has nearly 30 years of experience in the rehabilitation of Raptors for the Rocky Mountain Raptor Program and, most recently, for the Carson Animal Services Initiative where she was involved in both animal care and also for raising money for the design, construction, and operation of their new animal care facility. Her combination of HR skills, experience with wildlife rehabilitation, and project design and fundraising are invaluable to LTWC.
Coralin Glerum
Vice President & Secretary
Coralin has been an LTWC volunteer and board member since 2015, and is a member of the LTWC Fundraising Committee. She is a retired college professor of exercise science and has experience in presentations, project planning, communications, budgets and research. She received her BA from the College of William & Mary and her MA at UC Berkeley. Coralin is the leader of our Fundraising Committee.
Stephanie Lenstrom, CPA
Treasurer
Stephanie has been involved with LTWC since 2009 and joined the Board as Treasurer in 2016. She has been a practicing CPA for over 25 years, the last 16 years here in South Lake Tahoe. She started her career at Deloitte, spent some time in private industry, before returning to public practice when she moved to South Lake Tahoe. She has a Masters of Taxation degree from Golden Gate University and a B.S. in Business with Accounting Option from California State University East Bay. She has assisted numerous nonprofits with compliance and planning issues at both the federal and state level.
Lauren Bachelder
Board Member
Lauren joined the Board in 2017. She has a B.S. in Business Administration from Cal Poly, San Luis Obispo and has worked in marketing for 15 years, most recently developing communications and digital content within the hospitality and healthcare industries. Originally from South Lake Tahoe, Lauren is excited to be back in her hometown community.
Lauren Kostka
Board Member
Lauren began volunteering with LTWC in 2020 and joined the Board in 2021, focusing on fundraising and marketing initiatives. Lauren has deep experience working at the intersection of marketing and technology, most recently at Meta (formerly known as Facebook Company), as well as for Google and Gap Online. A born communicator and coalition-builder, Lauren excels at herding cats and making ideas come to life beautifully and efficiently. Lauren received her BA in English Literature and Psychology from Georgetown University.
Morgan Beryl
Board Member
Morgan is Executive Director of the Haywood County Arts Council, located in western North Carolina where she recently moved. While living at Tahoe, Morgan worked for the Tahoe Regional Planning Agency and spent her time volunteering at LTWC. Morgan acts as the grant lead which helps fund operations and capital improvements.
Greg Erfani
Board Member
After a career in sales and marketing leadership roles for Verizon and Starbucks, Greg now focuses his time on several Board positions in California, Nevada and New York, as well as real estate development and volunteer work for worthy organizations such as Lake Tahoe Wildlife Care. He and his partner love spending time between the mountains and the beach…determined in large part by what their Golden Retriever "Luna" demands at any given moment!
Sue Novasel
Board Member
Sue Novasel has been a board member of LTWC since 2008. She is the District V Supervisor for El Dorado County, California; previously, she served as trustee to the Lake Tahoe Unified School District and is past president and clerk of the school board. She has served on many other local boards in her nearly 40 years of living in the Tahoe Basin, including the City of South Lake Tahoe's 56-acre Citizen Advisory Board, which planned the Lakeview Commons project, a highly successful community project that created an incredible public place on the shores of Lake Tahoe.
Wendy Jepson
Board Member
Wendy joined the board in 2022. Shas been involved with land use planning at Lake Tahoe for over 20 years and is the Current Planning Division Manager at the Tahoe Regional Planning Agency. Wendy has a passion for wildlife rescue/reintegration in East Africa generally and in the Lake Tahoe region in particular. She enjoys traveling and outdoor activities with her Irish Wolfhounds.
Cathy Ebert
Board Member
Cathy joined the LTWC Board January 2022 after being introduced to the organization in 2017 when she moved to Lake Tahoe. A graduate of the University of Nevada Reno, Cathy brings extensive marketing and fiscal experience to the Board and Fundraising Committee after over 40 years in Financial Services and Real Estate. Cathy's curiosity and keen observation of animals and the outdoors was sparked as a young child playing then working on her family's ranch in Lamoille Canyon in eastern Nevada. When Cathy's not volunteering for a number of local and national organizations, she can be found outdoors; in a kayak, on skis, snowshoes, or in hiking boots – always with a pair of binoculars around her neck trekking the trails of the Sierra.
Kevin Willitts, DVM
Board Member
Dr. Willitts, a graduate of Michigan State University's School of Veterinary Medicine 1981, has been a practicing small animal veterinarian and a small business owner for over 30 years.
Dr. Willitts has been a volunteer veterinarian with LTWC since 1986, and an LTWC board member since 1990, previously serving as LTWC Board Vice President and President.
Cheryl Millham
Cofounder
Cheryl is the cofounder and backbone of LTWC. She served as LTWC's original president, and was promoted to executive director in 1983. She has personally cared for and treated thousands of wild birds and animals, has hosted two international wildlife rehab conferences in Lake Tahoe (IWRC-93, and NWRA-01) and delivered numerous papers at wildlife rehab conferences around the US. She has been the primary instructor for the annual LTWC training seminar since 1980, and has trained hundreds of wildlife rehabbers. She is now our Relief Animal Care Director as she transitions into enjoying a well-deserved retired life.
Tom Millham
Cofounder
Tom is the cofounder of LTWC, and has served as its secretary since 1979. Tom wears many hats at LTWC: he has been vital to planning and organizing LTWC fundraising efforts, managing facility operations, organizing volunteers and providing community outreach. He is one of three team leaders for the eagle flight team, and led the team tasked with finding LTWC's new home. Tom has overseen LTWC's growth from a handful of people in 1978 to an organization with hundreds of volunteers that has treated and released over 16,000 wild birds and animals.
Robert Dietz
Board Member Emeritus
Bob was a cofounder of LTWC, and one of the handful of people who helped LTWC get off the ground. He served as the initial treasurer for the organization. In LTWC's early days, Bob and his family would take birds and animals into their home to raise them. Bob was a strong financial supporter of LTWC since our inception. He passed away in September 2020.
Bob and Sue Rutherdale
Board Members Emeritii
Our work is not possible without our volunteers!
Volunteers are crucial to LTWC's work, and the value of their time and dedication is immeasurable. They help feed and care for the animals staying with us, assist with animal transport and releases, pitch in with fundraisers and events, donate special skills and services and keep our facility running.